Wood photo frame urn with 4 x 6 photo holder, holds up to 45 pounds
$74.95

Free same day shipping! Most urn orders received before 1:00 PM eastern time ship on the day the order was placed (except weekends and holidays).Orders normally ship via UPS Ground, with express shipping available. Choose "Rush shipping" at checkout for 2 Day delivery on urns (via UPS 2 Day Air to most locations). Overnight shipping available – please call or text us.
Wood photo frame urn with 4 x 6 photo holder, holds up to 45 pounds
Real wood classic photo holder urn accommodates a 4 x 6″ photo behind a glass lens. The back of this urn is held securely with brass screws, which are removed to gain access to the inside compartment. Felt pads on the base help protect surfaces. Your choice of solid oak wood with a clear lacquer finish or birch wood with a cherry stain.
Approximate dimensions and capacities:
Outer Dimensions: 8″ x 3.5″ x 6″
Interior Dimensions: 6″ x 4″ x 2″
Capacity: 45 cu. in.
Will hold the ashes of a companion that weighed 45 lbs or less at the time of passing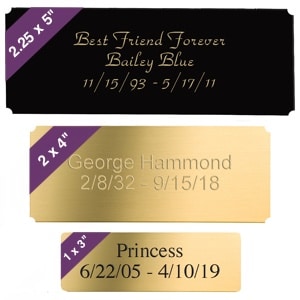 Optional engraved plate choices:
Sizes:
1 x 3″, 2 x 4″, or 2.25 x 5″
Black and brass finishes available, with black or brass text. See product options for choices. Choice of six type styles in block and italic.
This Wood photo frame urn with 4 x 6 photo holder does not accommodate an engraved plate on the front, however, you can place the plate in the location of your choosing. The plate is supplied with double-sided tape for easy installation.
Having experienced the pain of pet loss, we ultimately found the inspiration for these offerings in the realization that a treasured keepsake does, in time, provide some small degree of comfort. Displaying your special family member's remains is a beautiful way to memorialize them for a lifetime. Unlike burial sites, small urns can travel with us and enable us to keep the beloved lost ones in our hearts and lives forever. Figurines are also available separately if you've already purchased a box. Please don't hesitate to contact us for more information.