PLEASE NOTE: the fundraiser has ended. Thank you to all who participated

This plaque is made to order from a laser-engraved acrylic material that is UV and weather-resistant, with a peel-off adhesive coating to make attachment fast and simple. It features a brushed brass finish. Two sizes are available:
Plate dimensions: 3″ W x 1 1/4″ H (78 x 32mm)
(dimensions are approximate)
We can engrave up to 4 lines of text with black fill, with about 40 actual characters allowed per line on the standard size. If you require more than this, please contact us at (609) 474-4699 and we'll try to make it happen. Please keep in mind that more characters per line results in a smaller text font size. We offer two font styles, script and block. Please note that block is more legible on very small pieces or with many characters. Also script font is difficult to read in all capital letters. If you would like capital letters, block is the best choice. We suggest capitalizing the first letter of every word and ensuring that there are no spelling errors. If you have any questions about which font might be best for your order, please don't hesitate to call.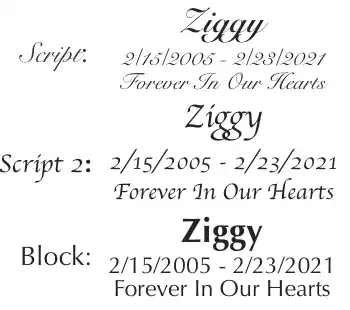 The addition of heart or paw print clip art is available for an additional fee ($6.00). Please note that the cost is not applied to the fundraising effort. It is submitted directly to My Pet For Life (via the checkout on this site) and is used to defray part of the cost of production.