Free engraving!
This plaque features a brass finish and measures approximately 1 inch tall x 2.5 inches wide. The corners are square. It comes supplied with adhesive tape on the back and can be attached directly to your urn's plate face (not for round items, such as vases).
Each nameplate comes with double-sided tape on the back so you can easily attach it to almost any surface (wood, metal, plastic, ceramic etc.)
We can engrave up to 3 lines of text with about 30 actual characters allowed per line. If you require more than this, please contact us at (609) 474-4699 and we'll try to make it happen. We offer two font styles, script and block. Please note that block is more legible on very small pieces or with many characters. Also script font is difficult to read in all capital letters. If you would like capital letters, block is the best choice. We suggest capitalizing the first letter of every word and ensure there are no spelling errors. If you have any questions about which font might be best for your order, please don't hesitate to call.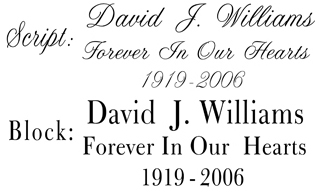 Clip art engraving is available for this engraved nameplate. Clip art is typically added to the left and right sides of the text. If you are interested in a different layout, please contact us prior to placing your order or include a comment in the notes section when placing your order (please provide a phone number). In some cases where the full number of available characters are used, as well as clip art, there may be a shortage of space. If that's the case, we'll contact you to discuss alternatives. Likewise, please free to call us with your special requests and we'll try to make them happen. We can even engrave clip art that you provide, in many cases.
We can engrave silhouettes of most pet breeds. Just choose the option and we'll locate a silhouette to match your choice. Or you can upload your own.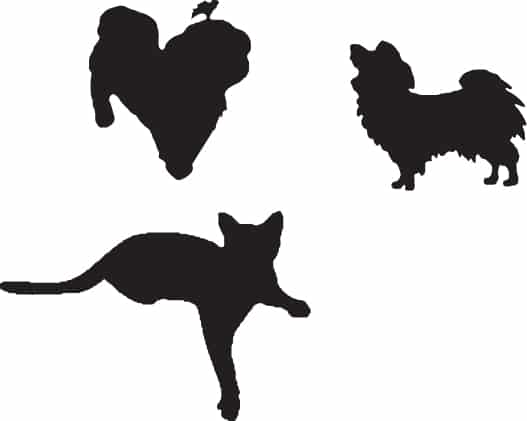 Having experienced the pain of pet loss, we ultimately found the inspiration for these offerings in the realization that a treasured keepsake does, in time, provide some small degree of comfort. Displaying your special family member's remains is a beautiful way to memorialize them for a lifetime. Unlike burial sites, small urns can travel with us and enable us to keep the beloved lost ones in our hearts and lives forever.