Pug Bronze-look Figurine Cremation Urn
$199.95

Free same day shipping! Most urn orders received before 1:00 PM eastern time ship on the day the order was placed (except weekends and holidays). Orders normally ship via UPS.
Looking for more Pug urns? Click here.
In stock
Pug Bronze-look Figurine Cremation Urn
ShadowCasts™ bronze-look Pug dog urns are truly magnificent works of art, painstakingly cast to capture the essence of the breed in unsurpassed style, class, and quality. This urn is made of cast resin, with colors and additives formulated to simulate the look of cast bronze at a fraction of the cost. The bronze-style finish is a great alternative for Pug owners who are unable to find a match among our Companion Series hollow figurine urns. This premium urn is also heavier than our Companion figurines.
Our bronze-look Pug urns make beautiful decor, as they attractively accent your home or office while showcasing this beloved pure breed. These exquisite bronze dog statues are fashioned with a hole in the bottom, through which the bagged cremains can be inserted. A 4″ metal plug secures the opening.
The capacity of these figurine urns vary, due to the unique shape of each one. In many cases, the urn provides extra capacity that may be used to house a lock of hair, sacred soil or favorite toy. Please check the capacity info below to ensure that this urn has sufficient space to house your dog's cremains. Please don't hesitate to contact us with any questions you may have.
A ShadowCasts™ bronze-look dog statue urn makes a loving pet tribute and are intended to provide you with a lifetime of memories and service. They should only be displayed indoors. Your dog deserves the very best; so honor them with ShadowCasts™ urns.


Approximate dimensions: 14.10″ x 8.40″ x 9.63″ tall
Capacity: 110 cubic inches (approximately 110 pounds, pre-cremation weight)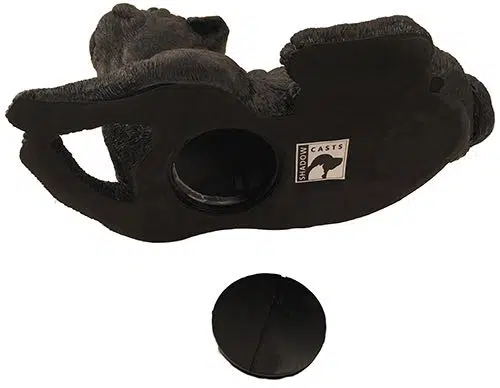 Add an engraved nameplate & chain

Brass plates, available in silver, gold and slate colors can be added to personalize your urn with your pet's name, sentiment, dates or whatever you wish. Comes with a chain, which can be adjusted to fit around the figurine's neck using wire cutters. Add this urn to your cart and you can view them from the cart page or you can click here for more information.