This contemporary heart has squared edges and is a slide design where the chain passes through the body of the pendant. It is filled through a screw on the bottom edge of the heart. Engraving can be done on either side with a maximum of 6 characters.
Pendant Includes an attractive black velvet gift box, glue, care card, filling funnel and instructions, screw driver (if needed). Chain optional – not included.
Dimensions (approximate): 5/8″W x 5/8″H x 3/16″D
About Madelyn Co.
Madelyn Pendants are made in the USA., using Tiffany-grade "925" sterling silver, 14k solid white and yellow gold, 5 micron 23k gold vermeil (heavy gold) plating, titanium, stainless steel, bronze and pewter. Madelyn was the originator of the keepsake jewelry style and their offerings are the highest quality available. For more information about our Madelyn Co. products click here.
About engraving: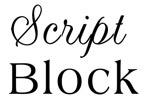 We offer your choice of block or script fonts for engraved cremation jewelry. Please keep in mind the fact that script engraving in all caps is not legible, so engraving entries in all caps will be changed to have only the first letter of each word capitalized if submitted that way. We cannot be responsible for submission errors or costs related to the correction of them, so please check your entries carefully. Additionally, a greater number of characters does result in a smaller character size, so please bear that in mind if you are considering a long sentiment.
Having experienced the pain of pet loss, we ultimately found the inspiration for these offerings in the realization that a treasured keepsake does, in time, provide some small degree of comfort. Displaying your special family member's remains is a beautiful way to memorialize them for a lifetime. Unlike burial sites, small urns can travel with us and enable us to keep the beloved lost ones in our hearts and lives forever.